Solidarity Harvest
Solidarity Harvest is a project organized by Food AND Medicine and sponsored by the Eastern Maine Labor Council that distributes locally-sourced meal baskets in late November, each with nearly 30 pounds of produce, which is enough food for 8-10 people. The first Solidarity Harvest was in 2003, when we distributed 100 meals; in 2022, we distributed 1,622.
Funds are raised to purchase produce from smaller Maine farms and food producers, which is assembled by volunteers and distributed to Mainers in hard times.
The project is solidarity, not charity. It supports unions, farmers, community and faith groups, other nonprofits, and hundreds of volunteers. Solidarity Harvest benefits many while shining a light on the severity of food insecurity in Maine. Food AND Medicine distributes very few baskets directly. The baskets are distributed by partner organizations to their members.
Donate to Food AND Medicine for Solidarity Harvest or Sponsor a Meal!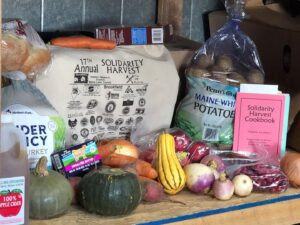 Our Roots
Solidarity Harvest began in 2003 in response to a landslide of mill closings that left thousands of workers without jobs. Since then, unions, farmers, faith communities, volunteer organizations, and businesses have come together each year to provide locally-grown and purchased food to laid-off workers and families who have hit hard times.
The continued loss of good jobs in Maine means that many of our brothers and sisters live without steady incomes, forced to choose between paying for food, medicine or other basic necessities. With so many families struggling to make ends meet, local efforts to help out with meals on important holidays such as Thanksgiving are important.
Sadly, the need only grows each year.
In 2022, Solidarity Harvest distributed 1,622 meals to families across the state. Nearly 100 organizations, including unions, faith organizations and other nonprofits were involved.
We completely reorganized our assembly and distribution of the meal baskets in 2020 to keep our volunteers and staff safe. Those protocols include reduced volunteer numbers, outdoor workstations, social distancing and masks required when near others.
Solidarity Harvest planning takes place all year long. The Committee meets monthly, and other work is happening throughout the year. Our critical time is "Sort Week", the two weeks leading up to Thanksgiving, when thousands and thousands of pounds of produce need to be processed into the individual meal baskets. It's a lot of hard work, but it's also lots of fun and very rewarding.
Many local organizations, unions, faith-based organizations, and businesses provide generous financial support to the project.
For more information, or to get involved in the next Solidarity Harvest, contact Food AND Medicine staff at (207) 989-5860 or email [email protected].