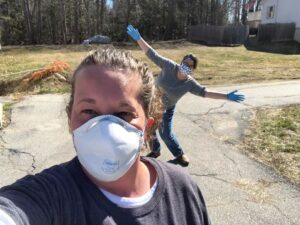 Volunteer
There are a number of volunteer opportunities with Food AND Medicine throughout the year, from food distribution events to making calls to gardening support.
If you're in the Bangor region and you'd like to get involved, please send an email to [email protected]. Let us know which of our programs sounds interesting to you.
Become a Member or Renew Your Membership Food AND Medicine is a member-based organization. Members are empowered to help fulfill the vision of the organization and to take part in programs and committees, and vote in annual board elections. Membership is a way to say that you stand with us in our work and believe in our mission. The more members we have, the more power we can have when we stand together. We also welcome $0 Members, so that no one is excluded from membership.
Sponsor a Solidarity Harvest Meal Each Solidarity Harvest basket costs about $45 to fill and includes produce purchased from Maine farms and enough food for 8-10 people. With over 100 partner groups, we distribute at least 1,400 baskets each Thanksgiving which contain about 30 pounds of food, not counting the turkey! Turkeys and stuffing are donated, everything else is purchased through fundraisers and donations.
Make a Donation to Support FAM's Work Food AND Medicine depends on the generosity of members, allies, labor unions, community organizations, farmers and businesses who believe in the mission Food AND Medicine to organize, educate, and empower workers and our communities in the fight for economic and social justice. Donations via this link are NOT considered membership.
Sign up for our email list to stay updated on events, actions and relevant news. We promise not to email too often!
Have a question? Email us at [email protected].