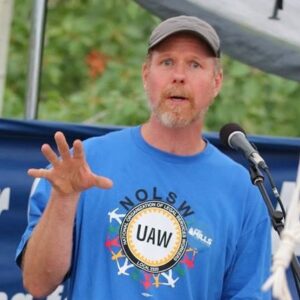 Jack McKay, Director, is one of the founders of Food AND Medicine, and has been the Director since the beginning in 2001. Jack oversees the day to day operation of the organization, as well as strategic planning, finances, budgeting and FAM's long term sustainability. He was previously a school teacher in New York City, and spent many years as a union organizer. He has served as President of the Eastern Maine Labor Council for many years. Jack, his wife and two sons live in Bangor, where he was born and raised.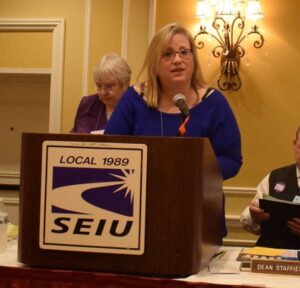 Melissa Smith, Deputy Director has been with Food AND Medicine since 2015, when she was hired as Office Manager. She was promoted to Deputy Director in 2022; her responsibilities include finances, grant management, communications, data management, event planning and other administrative duties. Melissa grew up in New Jersey, but spent summer vacations in Maine since she was a child. She had a 20 year career as a compliance manager in the consumer lending industry in Phoenix, from which she was laid off in a workforce reduction, prior to moving to Maine to be closer to family.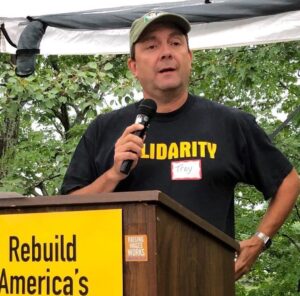 Troy Jackson, Projects Organizer, joined our staff in 2021 to primarily focus on workers rights and unions; he's been a friend of the organization for many years. A member of two unions, an experienced organizer and fundraiser, Troy brings a wealth of knowledge and experience to FAM's team, and we couldn't be more excited to have him on board. He's been a Maine state senator since 2016, and was unanimously elected by his peers to serve as President of the Senate in 2018, and currently serves in that role.
From Troy's website: Troy is a fifth-generation logger from Allagash, who got into politics because he was tired of people with big suits and soft hands in Augusta and Washington making decisions without regard for working families in his community and all across the state.
Suzy Young, Peer Workforce Navigator, joined our staff in 2021. She comes to us with a very strong advocate background as she had complete care of her two elderly parents with Alzheimer's until their passing in 2016 and 2018. She voluntarily took on the role of using first-hand experience to advocate for the unemployed with the Maine AFL-CIO's Unemployment Assistance Group. The Maine AFL-CIO presented Suzy with their 2021 President's Award for her tireless and endless efforts to help the unemployed during the unprecedented pandemic.
In 2022, Suzy was invited to join a committee of five expert Navigators to advise the United States Department of Labor on a study of the Unemployment Insurance system, and the efficacy of the Navigator program to possibly expand it to other states. Maine is the first state to have a Peer Workforce Navigator Program.
Born and raised in Greenwood Maine, she is also a fiber artist, and raises sheep; she lives in Waldo County with her husband and son. Suzy quite often is known to say "Policy is important but the people who the policy is intended for are more important when they are in need."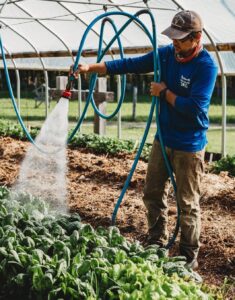 Johnny Sanchez, Volunteer Coordinator, joined our staff in 2021. Johnny was born in Albuquerque, NM and grew up on the Ohkay Owingeh reservation in northern New Mexico where he gained a passion for growing food and feeding people. He further developed this passion by pursuing a Masters degree in sustainable agriculture from the University of Maine and managing a farm in central Maine before coming to FAM. At FAM, he has utilized these skills to help coordinate the annual Solidarity Harvest as well as outreach to farmers.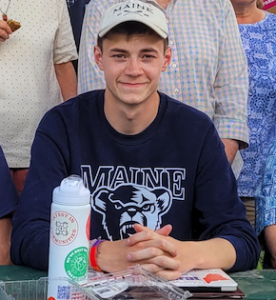 Jackson Peck, Community Organizer, is originally from Newport, Maine, but currently resides in Brewer. Before joining the organization in November 2022, Jackson worked as a Regional Field Director in Somerset, Kennebec, and Franklin counties for the Senate Democratic Campaign Committee. Building relationships and inspiring a sense of community is Jackson's passion, and throughout his life he has always looked for opportunities to bring people together. He hopes to continue that work with Food AND Medicine.