Transportation for All
Transportation for All (TFA) is a group of bus riders, bus drivers & supporters working for a strong bus system in Greater Bangor. Community Connector is the public transit system in the Bangor region, servicing the towns of Bangor, Brewer, Orono, Old Town, Veazie and Hampden.
Anyone interested in joining TFA or learning more is welcome to attend a meeting, on the third Thursday of each month, 9am-11am. Due to Covid-19, meetings are currently being held online. Contact [email protected] for more information.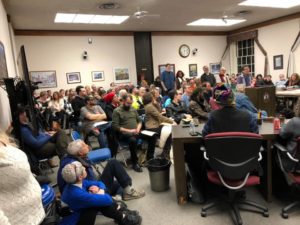 Transportation for All is committed to expanding and improving the public transportation system in the Bangor area. We've often presented to the Bangor City Council, we've had significant press coverage and continue to raise awareness of this critical need. Public transportation provides the citizens of the region with access to jobs, education and basic necessities like doctor's appointments and groceries. The Community Connector is a great system, but current budgetary restrictions cause limited hours of operation and routes. We are working toward expanded hours into the evening and on weekends, as well as the purchase of additional kneeling buses, which are more easily accessible.
Since 2015, Bangor City Council officially proclaims November as Ride the Bus Month. The city has shown support and enthusiasm for the Community Connector by providing two free ride days in November, including Election Day, and assisting in promoting Ride the Bus Month.